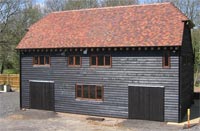 We are proud to recommend our preferred training partner, Kingswood Training Services, as a provider of quality training courses for Arborists and Forestry Workers of all ages and abilities. Their 95% pass rate indicates the quality of the instruction provided and the feedback they receive from past students speaks of the high standard of their facility. Based just off the M20 in Kent, they provide top-class residential facilities for students travelling from further afield.Kingswood Training Services provide all the relevant training for our staff and we have always been impressed with the service we have recieved. If you are looking to expand your skillset, change career or simply refresh your knowledge, we would not hesitate to recommend them.
Top class facilities
KTS, quite rightly, pride themselves on the high standard of the facilities they provide for their students. Residential students stay in dedicated on-site accommodation complete with flat-screen TV, pool table, wireless broadband, kitchen and laundry room. Below the accommodation suite is a purpose-built indoor training area so, even if the weather is being typically British, practical training can continue.
Unique pass rate
Kingswood Training boasts a pass rate that would be the envy of any training provider; 95% of their students pass their exams first time. This speaks volumes about the quality of the tuition provided and the care that is taken to ensure every candidate is fully prepared for their exam.