· Welcome to FR Jones and Son Ltd · 020 8676 3010 ·
We are a family-run business based in South-East London, specialising in horticultural and arboricultural equipment, supplies and service.
We've been around for over 50 years and are proud to have built up a loyal customer base. We like to think this is due to our rugged good looks and sparkling personalities but, in reality, it's probably down to our low prices and high levels of customer service.
We're not just a retailer, though; our experienced mechanics can provide a comprehensive machine service or individual repairs.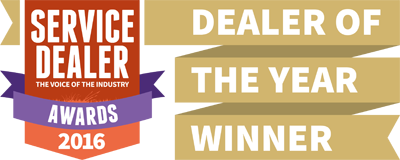 Service Dealer Forestry Dealer of the Year 2016
We're ever so proud of our staff and the exceptional levels of customer service they provide – we wouldn't have this award without them and we believe they're the best in the industry! More about us »