We are incredibly excited to share the news that we now offer the full range of world-class outdoor power tools from Echo, available now.

Depend on it
For over 75 years, Echo® have been designing and building high performance, commercial quality products. From humble beginnings in Japan with a simple hand-held crop duster, they have grown to become a technological leader and well-respected global brand.
Thousands of professional arborists, landscapers and gardeners worldwide count on Echo® every working day. They demand reliable and dependable tools that reduce fatigue, are comfortable to use and perform to the very highest professional standards.
---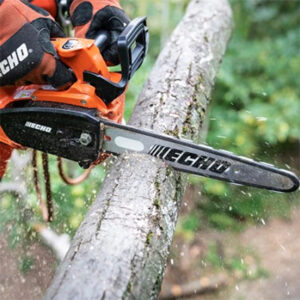 Chainsaws
Echo® chainsaws have industry-leading cutting performance and durability, with features including vibration reduction systems, automatic oilers, inertia chain brakes, electronic management systems and their patented G-Force technology, which greatly reduces the need for engine maintenance.
Like all Echo® equipment, Echo® chainsaws are built with professional-grade components and precision to ensure maximum value from your investment. High quality, hard working with renowned Japanese build standards. So, whether you're cutting, pruning or felling, Echo® has a chainsaw you can depend on.
---
---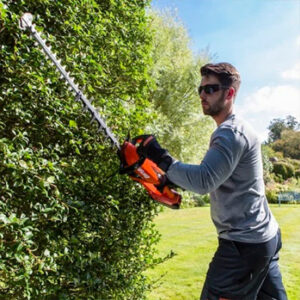 Hedgecutters
Echo® hedge trimmers are designed to be durable, light weight and well balanced. With light weight gear cases, long-lasting blades and vibration-reducing engine mounts, you get professional performance with maximum comfort. On petrol models, Front facing exhaust pipes and advanced cooling technology eliminate the risk of damaging the hedge and keep emissions away from the operator.
Echo® have focused on maximising comfort and performance, gradually adjusting every aspect for the best possible experience. By raising the hedge trimmer handles by 5 degrees, Echo® have found the optimal position, reducing hand contact with hedges and giving unhindered maneuverability while you work.
---
---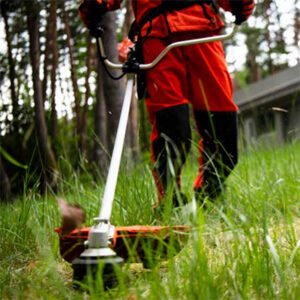 Brushcutters / strimmers
Echo® brushcutters are built to the highest standards, giving you the assurance you need to tackle the toughest of tasks. Their ergonomic design allows you to work more efficiently, so days seem shorter and difficult jobs easier.
High torque gear cases allow you to power through thick brush and tall grass in one pass. Echo® have been gradually improving vibration reduction and ergonomics on their trimmers for decades, so you can work faster and get jobs done more efficiently.
From green space maintenance to the taming of dense wilderness, Echo® trimmers and brushcutters perform flawlessly. So whether landscaping, clearing or trimming, make sure there's an Echo® power tool by your side.
---
---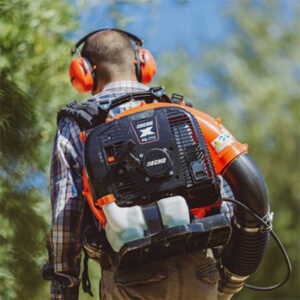 Blowers
Echo®'s range of blowers features handheld light-weight models, heavy duty powerhouse backpack blowers, cordless battery powered models as well as their patented Shred 'n' Vac systems for blowing, vacuuming and shredding leaves.
Dedicated to enhancing performance and comfort, Echo®'s Anti Vibe technology minimises vibration and sway, drastically reducing operator fatigue and making their blowers a breeze to use. On handheld blowers, rotational control reduces the gyro effect, meaning Echo® blowers create a slight pull away from the operator's legs, reducing wrist strain and exertion. If you're looking for an industry-leading blower, Echo® has the product for you.
---
---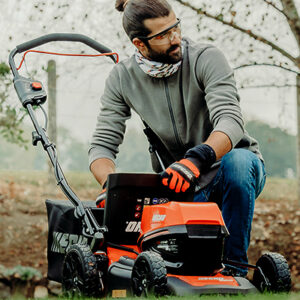 Lawnmowers
Echo® mowers feature vertical standing and even, electronic, torque control to offer extreme convenience and comfort whilst working.
Mow your garden to perfection with ease and maneuverability, a range of cutting options and robust, dependable construction. Packed with features that allow you to get your grass exactly as you like it.
The Echo® range has something to suit all needs; cutting width from 35cm – 46cm, push or self-propelled options, light-weight polypropylene or heavy-duty steel deck and all models come with an optional mulch function.
---
---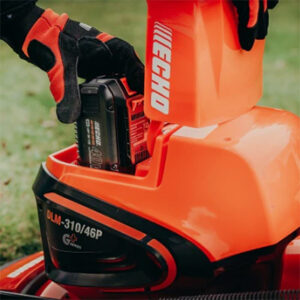 Battery Tools & Accessories
There's no arguing that battery powered tools are a tempting proposition, but do they have the power and performance a professional needs? We think you'll find, with Echo® cordless tools, that the answer is yes.
Echo® have a full range of 56V battery products that share the same professional standards as their petrol stablemates, alongside a lighter-duty 40V range for the domestic user.
Whether you're mowing the lawn, pruning, hedge trimming, clearing debris or operating the chainsaw, you can depend on having enough power, no matter how heavy your workload.
---
---
… and much, much, more
This is just a small highlight of the selection of premium Echo tools we now have on offer, why not explore the full range: