We are very pleased to announce a series of significant changes to the company, which we are confident will bring benefits to customers and suppliers alike – we hope you'll agree!
---
New building
In response to the continued growth of the business and taking advantage of new investment capital, we have taken the opportunity to secure significantly larger new premises. We will remain in Sydenham, South East London, but will be moving just down the road to a new, higher-profile, development less than a mile from our current location.
We are very excited about this new development and we hope our customers will appreciate all the benefits it will bring. We have applied the same 'Go big or go home' approach that we take at Trade Shows to our new permanent home and secured:
~11500 sq ft warehouse/showroom space
~1000 sq ft office space
~500 sq ft classroom space
Containing:
20m of trade counters
over 200 pallet spaces
over 200m of warehouse racking
1000m of warehouse shelving
up to 10,000 pick bins (that's a lot of web orders!)
… and ample customer parking!
There will be dedicated office, workshop, showroom and warehouse teams made up of 22 staff to ensure smooth running and efficient order processing.
We have lots of exciting things planned to fill all this lovely space with, including:
Sound-proof machine demo room

Our new sound-proof machine demonstration room will allow us to run-up and demonstrate any machine, whatever the weather.

Dedicated classroom facilities

We will have a dedicated teaching facility within the new building to allow for manufacturer workshops, new product launches / demonstrations, staff training etc. This facility will be available free of charge to suppliers and manufacturers to provide customer education workshops on a wide range of topics throughout the year.

Climbing frame and demo area

There will be a custom-built climbing frame within the new showroom to allow for proper testing / fitting of climbing equipment before purchase. You will have the opportunity to try a variety of equipment, as it will actually be used, to find the item that suits you best.There will also be a demonstration area set up for rigging equipment so you can get hands-on and talk to our experts about the different equipment and techniques.

LOLER room

Our three fully-qualified LOLER inspectors will now have a fully-equipped space exclusively for carrying out LOLER inspections. We hope that this dedicated space will allow us to undertake more inspections and to process them more efficiently.

Increased machinery display area

We will have the space for an even wider selection of machines to be available on display, with over 200 models planned. This will include a dedicated robotic mower area with an AutoMower in action.
---
Our increased warehouse capacity will also allow us to move towards larger-scale trading into Europe – one step closer to world domination!
We're working our socks off to get the new building ready as soon as possible and are currently hoping to be in for mid-to-late March. You will be able to follow progress here on our website – we will post pictures and updates as they happen.
Introduction of new Enterprise Resource Planning software and website
We have commissioned the development and integration of a new ERP (Enterprise Resource Planning) software system; Microsoft Dynamics NAV. This new system will allow for complete integration of all warehouse/stock management, ordering and planning. This, in turn, will allow for improvements to our website (e.g. to show live stock levels etc); streamlining telephone orders and reducing warehouse pick errors. All of which should result in an improved customer experience and more efficient ordering from Company suppliers.
The introduction of this new system has meant that we have had to completely re-build our website too. We've not changed too many things, but we hope that the improved mobile version of the site and live stock availability will enhance the customer experience.
The new website will also include an online spare parts ordering system for the first time, with the ability to order from exploded parts diagrams or search by part number / machine.
The new ERP system and website are scheduled to go live to coincide with the relocation to the new building in mid-to-late March.
Bob Jones' retirement and incorporation into a Private Limited Company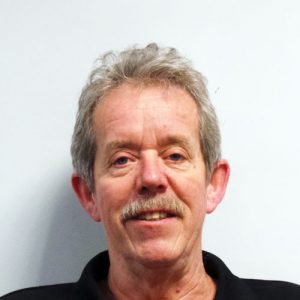 We're very sorry to see him go but, after nearly 50 years as Owner/Director of the Company, it's time for Bob Jones (the original 'and Son' from FR Jones and Son), to board the luxury cruise ship of retirement.
Bob has seen the company grow from a small lawnmower repair outfit in his Dad's garage to the landscape, arb and forestry supply powerhouse we are today. We'd like to thank Bob for everything and wish him well as he sets off to start a new life of gardening, golf and extended long-haul holidays!
With Bob's imminent retirement and the continued growth of the business, a commercial decision has been taken to incorporate the current Partnership into a Private Limited Company; as of today (27/02/2017), FR Jones and Son has become FR Jones and Son Ltd.
The trade of the current Partnership will transfer over to the new Company as will all staff and procedures. Justin Jones continues as Company Director, the management team remains the same and it will effectively be 'business as usual' in terms of relationship management with customers and suppliers.
With the move to becoming a Private Limited Company and the departure of Bob as Owner/Director, comes the opportunity to take on additional external investment to allow for accelerated business development and growth.
To this end, we have secured high-quality investment from premium external investors. The new investors not only bring additional funding for accelerating business growth opportunities, but a wealth of knowledge and experience to ensure the Company grows in the most effective and efficient ways.
Watch this space for more exciting business developments!
---