As you may have heard, we will be starting the New Year with a new address:
Unit 3 Sydenham Industrial Estate, Kangley Bridge Road, Lower Sydenham, London, SE26 5BA (click for a map).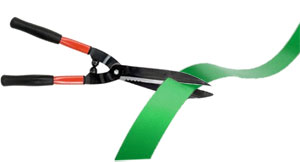 Our (new) doors open on Wed 4 Jan and, to help celebrate, we would like to invite you to join us for our special Grand Opening events on Fri 6 and Sat 7 Jan 2012 from 10am-4pm. Come and have a drink and some nibbly things while you tour the shiny new workshop and cavernous 3000 sq foot showroom. We've got a great selection of mowers and arb gear on display from across our full range.
The official ribbon-cutting will happen at 10am on Friday 6 Jan and will be followed by various activities and demonstrations by representatives from a range of manufacturers throughout both days.
We've got lots of items we need to clear, so there will be a dedicated sale area with up to 50% off a wide range of products.
We will be hosting a range of activities and guests over both Grand Opening days – updates will be posted here as we get confirmations:
Friday 6 January
Demonstrations from:
Saturday 7 January
Demonstrations from:
We'd like to make sure we've got plenty of refreshments for everyone, so please let us know if you're planning to join us by emailing enquiries@frjonesandson.co.uk.
---