Husqvarna 562XPG chainsaw
---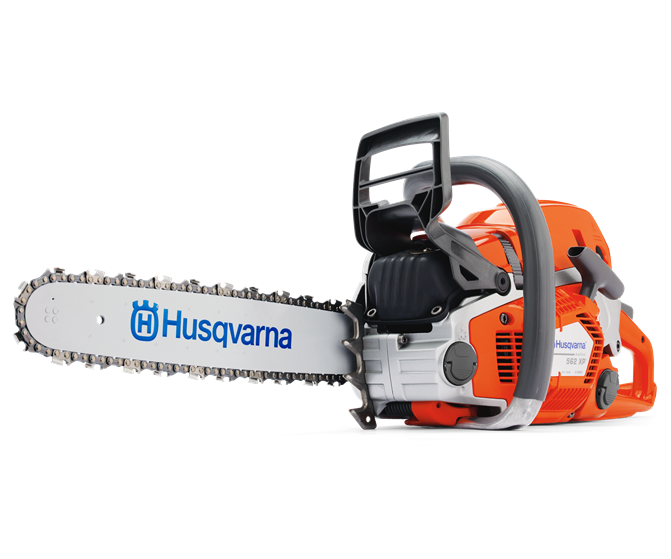 RRP from: £709.04 + VAT (£850.85 inc VAT)
Our price from: £530.00 + VAT (£636.00 inc VAT)
---
Please select an option from the drop-down list to add this item to your basket
---
Product description
Product description
Heated handle model which increases comfort in cold and damp conditions. Sharing many of the fantastic features which makes 560XPG the best 60cc saw, the new 562XPG has additional extras. Larger more efficient air filter with high top cover allows more air flow. Large bar mount accommodates the 3/8″ chain as standard allowing a bar length from 15″ up to a maximum of 28″ although 18″ is the recommend optimum size.
Features
Heated handles
Very powerful X-Torque engine
Revboost – rapidly increase engine speed, instant throttle response
Autotune – latest technology ensures optimum engine settings at all times
Lowvib –  low vibrations.
Flip up fuel caps – tool less removal of fuel and oil caps
Chain type – H42 3/8″ – requires 5.5mm 5/32″ file
Specifications 
Chain specification – pitch – 3/8″ gauge- 1.5mm
Available bar size 15-28″Cylinder displacement – 59.8 cm³

Power output – 4.7 hp

Maximum power speed – 9600 rpm

Fuel tank volume – 1.4 US pint

Idling speed – 2800 rpm

Spark plug – NGK CMR6H

Electrode gap – 0.5mm

Torque, max – 3.65 Nm

Fuel consumption – 494 g/kWh

Weight (excl. cutting equipment) – 13.67 lbs

Sound power level, guaranteed (LWA) – 118 dB(A)

Sound power level, measured – 116 dB(A)

Sound pressure level at operators ear – 106 dB(A)

Equivalent vibration level (ahv, eq) front handle – 2.7 m/s²

Equivalent vibration level (ahv, eq) rear handle – 3.2 m/s²
AutoTune
AutoTune gives optimal engine performance throughout automatic engine setting.No time spent on carburetor adjustments. It compensates fordifferent fuels, altitude, humidity, temperature and clogged air filter.
X-Torq®
Delivers lower fuel consumption and reduced exhaust emission levels in accordance with the world´s most stringent environmental regulations.
RevBoost™
Rapid acceleration and higher chain speed for best limbing performance.
Air Injection
Centrifugal air cleaning system removes larger dust and debris particles before reaching the air filter. This results in reduced air filter cleanings and improved engine life.