Certain items (e.g. ride-on mowers, stump grinders etc) are too large and/or heavy for us to send via courier and therefore have to be delivered by a pallet delivery service.
We are able to offer this service free of charge to the areas marked in green on the map below. However, because of the significant extra cost to us, if the delivery postcode is in an area marked in orange below, this method of delivery will incur a nominal £50.00 (+VAT) surcharge. Unfortunately, if the destination postcode is in any other area, we cannot offer a delivery service for these items.
Please note that you must be on site for pallet delivery and the item can only be delivered on to hard standing. We will contact you to arrange your pallet delivery to find a delivery date to suit you and to ensure there is adequate access to site and suitable hard standing for delivery.
The map below shows the postcode areas we are able to deliver to using the pallet delivery service: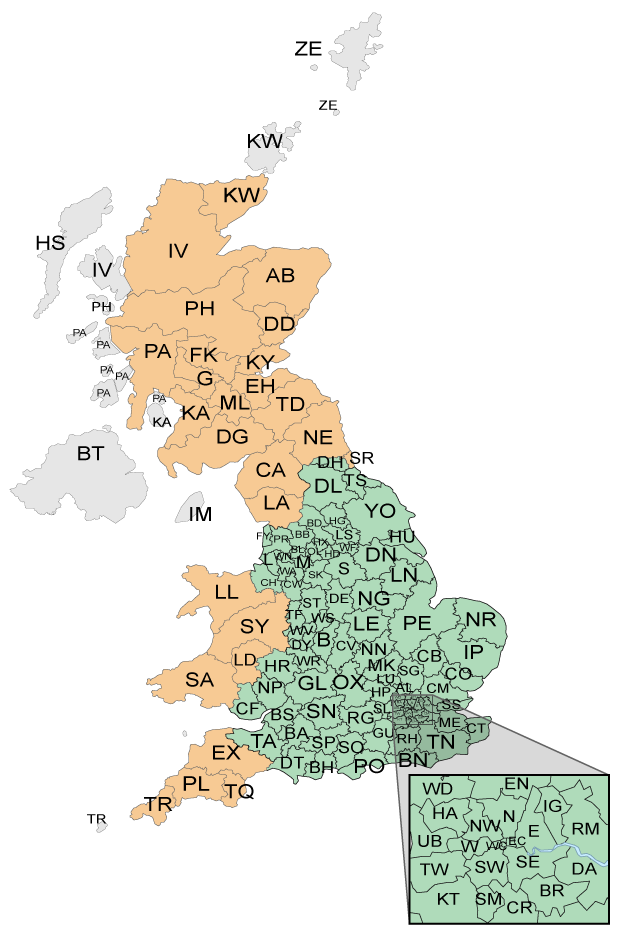 Mainland delivery postcodes beginning with

AL, B, BA, BB, BD, BH, BL, BN, BR, BS, CB, CF, CH, CM, CO, CR, CT, CV, CW, DA, DE, DH, DL, DN, DT, DY, E, EC, EN, FY, GL, GU, HA, HD, HG, HP, HR, HU, HX, IG, IP, KT, L, LE, LN, LS, LU, M, ME, MK, N, NG, NN, NP, NR, NW, OL, OX, PE, PO1-22, PR, RG, RH, RM, S, SE, SG, SK, SL, SM, SN, SO14-24, SO30-32, SO40-43, SO45, SO50-53, SP, SS, ST, SW, TA, TF, TN, TS, TW, UB, W, WA, WC, WD, WF, WN, WR, WS, WV, or YO

(marked in green on the map) will be delivered FREE of charge, via specialist pallet delivery service.
Delivery postcodes beginning with

AB, CA, DD, DG, EH1-49, EH51-55, EH91, EH95, EH99, EX, FK, G, IV1-28, IV30-32, IV36, IV63, IV99, KA1-26, KA29-30, KW1-3, KW5-14, KY, LA, LD, LL, NE, ML1-12, PA1-19, PA21-38, PA41, PH1-26, PH30-41, PH49-50, PL, SA, SR, SY, TD, TQ, TR1-27 or TR99

are eligible for delivery with payment of a nominal £50.00 surcharge
Unfortunately we are unable to deliver to any other postcode areas (marked in grey).