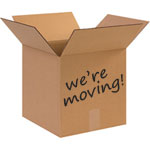 Our big move is getting very close now and we're very excited about the whole thing (and more than a little busy trying to get everything ready in time)!
In order to allow us to do all the necessary tasks required to make the move happen, we've had to make some temporary changes to our operating hours:
Our shop will be open as usual:
08:00 – 17:00 Mon – Fri
08:00 – 11:45 Sat
… but our phone lines will now be open:
09:30 – 17:00 Mon – Fri
09:30 – 11:45 Sat
… and the deadline for same-day dispatch of web orders will now be 1pm (subject to stock availability).
Our usual operating hours will resume once we are safely settled into our new home.
---